Obstetrics & Gynecology Residency Program
About Our Residency
Our training program is a 4-year fully accredited program designed to train the next generation of leaders in our specialty. The UC San Diego Obstetrics and Gynecology Residency Program has been an integrated program between UC San Diego and Kaiser Permanente San Diego for over 3 decades. This partnership allows our residents to care for one of the most diverse group of women in California under 2 distinct care models. The clinical experience combines 2 teaching models: academic teams and apprenticeships. Our patients are diverse: ethnically, socioeconomically, and linguistically and our residents benefit immensely from this diversity.
The hallmark of our department is the quality of its patient care and teaching – these are among the highest priorities of the faculty. The program's design gives each resident balanced instruction in obstetrics, gynecology, and all subspecialties including gynecologic oncology, maternal-fetal medicine, reproductive endocrinology and infertility, female pelvic medicine and reconstruction surgery, pediatric and adolescent gynecology, and family planning. The program boasts a long-standing partnership with Planned Parenthood San Diego and is a Ryan Residency Program. Residents are encouraged to explore their clinical interests with a 4-week elective that has included global health and state-side rotations, advocacy programs and additional research opportunities. All residents participate in a faculty-mentored research or quality improvement project. Our mission is to provide a problem-solving approach to postgraduate education with a balance of clinical experience, education, and academic stimulation so that our graduates have the knowledge, skills, and compassion to be outstanding physicians and the next generation of leaders in obstetrics and gynecology.
Residency Program Leadership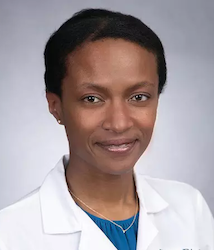 Cynthia Gyamfi-Bannerman, M.D.
Professor
Chair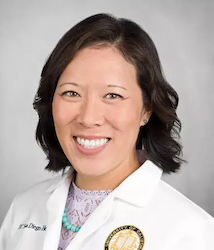 Maureen Ries, M.D.
Associate Professor
Residency Program Director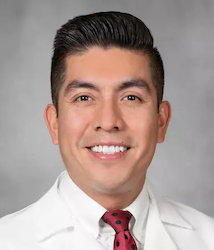 Jorge Alvarado, M.D.
Associate Professor
Associate Program Director
Alice Sutton, M.D.
Associate Professor
Associate Program Director
Mission
To develop physician leaders with a robust fund of evidence-based obstetrics and gynecologic knowledge, superb clinical and surgical skills, and a caring and compassionate approach to care.
Residents completing the program are expected to achieve competence in:
Patient care
Medical Knowledge
Practice-based learning and improvement
Interpersonal and communication skills
Professionalism
Systems-based practice
All residents are prepared to be academic or community leaders or to pursue subspecialty training. We achieve these educational objectives with an integrated training program, which combines the resources of the University of California San Diego Medical Center and Kaiser Permanente San Diego. This integration combines the strengths of an academic model with that of an apprenticeship model to provide the very best clinical experience for our residents.