Division of Obstetrics & Gynecology (Generalist)
The UC San Diego Department of Obstetrics & Gynecology, Generalist Division provides Obstetrical and Gynecology care to women across the reproductive lifespan, from the pediatric and adolescent time periods, through the reproductive years, and into the perimenopausal and postmenopausal phases of life. The board certified and board eligible physicians within the Generalist division are committed to meeting the needs all of women with individualized and compassionate care using state of the art evidence-based medicine and treatment options. We are proud to dedicate ourselves to the promotion of women's health with our commitment to clinical care and the education of the next generation of physicians who will care for women into the future.
The generalist division offers a wide range of gynecological care from routine annual screening examinations, contraception counseling and treatments, prevention and treatment of vaginal, cervical and other sexually transmitted infections to more specialized evaluation and treatments of abnormal vaginal bleeding, vulvar disorders, uterine fibroids, endometriosis, and menopausal disorders. Included in this are a wide range of non-surgical, minimally invasive surgical, and major surgical treatment options which are tailored to fit each idividual patient's treatment goals.
As obstetricians, the division offers preconception, prenatal and post-partum care focused on meeting the needs of our patients and their families. We approach our pregnant patients and families as a partnership and work together to achieve your birth plan goals. Our obstetrical care is recognized in the state of California for meeting important measures such as low cesarean section rates, high rates of vaginal birth after cesarean section, and low episiotomy rates.
For high risk obstetrical and gynecology patients, our division can help coordinate care and access UC San Diego leaders in the fields of high-risk obstetrics, gynecology cancer, infertility, incontinence, pelvic organ prolapse and family planning specialty care.
In addition to direct patient care, the generalist division is committed to the global health of women through the section of Women's Global Health. We believe all women, everywhere, should have access to the best obstetrical and gynecology care and division members travel internationally to provide education and services for women in underserved countries.
Division Director
Jessica Kingston, M.D.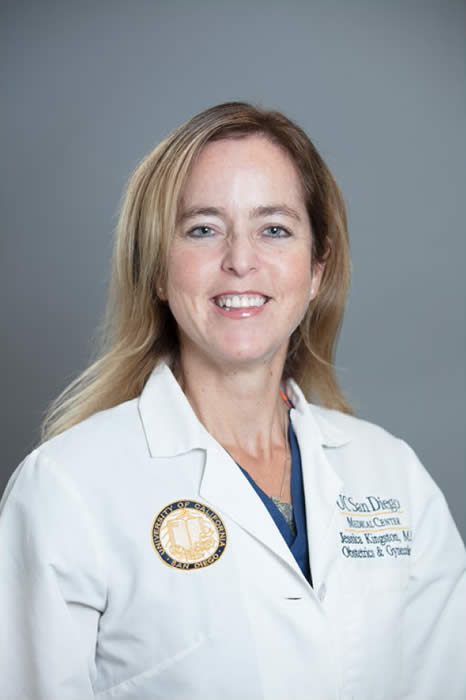 Faculty
Kingston, Jessica, M.D.
Alvarado, Jorge, M.D.
Deak, Pamela, M.D.
Delcore, Laura, M.D.
Driebe, Amy, M.D.
Maureen, Farrell, M.D.
Gross, Erin, M.D.
Klein, David, M.D.
Macaulay, Kathryn, M.D.
Meadows, Audra, M.D.
Miller, Christine, M.D.
Parker, William, M.D.
Pickett, Charlotte, M.D.
Ramos-Rivera, Mariana, M.D.
Resnik, Jamie, M.D.
Ries, Maureen, M.D.
Tang, Michelle, M.D.
Thomson, Samantha, M.D.
Varon, Shira, M.D.
Division News/Spotlight
Congratulations to our new Division Chief, Dr. Jessica Kingston.