Section for Global Women's Health (GWH)
The Section for Global Women's Health (GWH) in the Department of Obstetrics, Gynecology and Reproductive Sciences at UC San Diego provides a robust and sustainable global health program for the department through capacity building efforts to support education and provision of high quality, evidence-based reproductive healthcare in low resource settings. The program provides a Global Health curriculum for medical students and residents which serves as the educational framework for responsible and sustainable resident global health work. GWH coordinates short-term teaching opportunities in global health for interested faculty and coordinates responsible clinical rotations for interested resident and fellows at key collaborator sites. Finally, the program provides research mentorship for medical students, residents, and fellows interested in Global Women's Health research projects. GWH also works collaboratively with other UC San Diego departments and programs to create stronger interdisciplinary impacts when possible.
Program Director
Sarah Averbach, M.D., M.A.S.
Director of Global Education
Maureen Ries, M.D.
Field Director, Mozambique
Sierra Washington, M.D., M.Sc.
Programmatic & Educational Activities
Academic Consortium for Advancing Health in Mozambique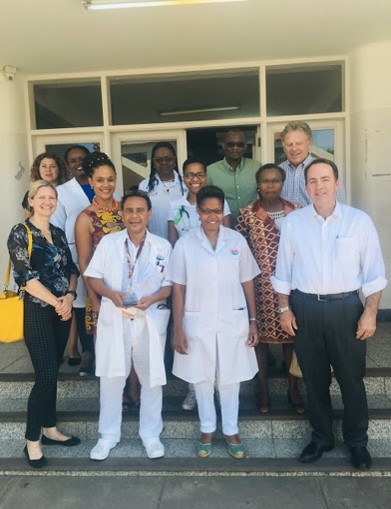 Mozambique is one of the poorest nations on the planet and has recently suffered major damage in the wake of two devastating Cyclones. Mozambique is ranked 180 out of 189 countries and territories on the Human Development Index. GWH is well positioned to make lasting and sustainable change in Mozambique at a time of the country's greatest need. There is already substantial human capital at UC San Diego engaged in meaningful academic collaborative work across the institution. GWH is partnering with the Academic Consortium for Advancing Health in Mozambique.
This consortium is led by Dr. Sierra Washington in partnership with Stony Brook University, Mozambique Institute for Health Education and Research (MIHER) and Universidade Eduardo Mondlane Faculty of Medicine (UEM-FOM) and facilitates collaboration between North American Academic Medical Centers with a shared goal to support development and capacity building for healthcare in Mozambique. Specifically, members of the Consortium collaborate with the Ministry of Health in Mozambique to help build the service, education, and research capacity of the UEM School of Medicine with the goal of providing access to high quality evidence-based healthcare for all persons throughout Mozambique. In joining the consortium, the section is committed to facilitating bi-directional capacity building, research and training activities including the required commitment to bi-directional, short-term faculty trips.
Refugee Women's Health Clinic, Tijuana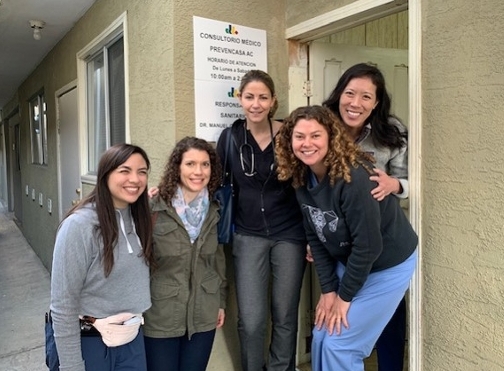 Since November 2018, over 60,000 migrants have fled violent conditions in their home countries, arriving at the US border to seek asylum. In the wake of forced migration and displacement, pregnant women and young children are disproportionally vulnerable. Maternal and infant mortality increase, there is an increase in preterm delivery, low birth weight infants and utilization of prenatal care decreases. To specifically address the needs of migrant women, GWH has worked in collaboration with Stanford University and Prevencasa AC clinic in Tijuana to open a free Women's Clinic. Services being offered twice monthly include pregnancy diagnosis, prenatal care, contraception, sexually transmitted disease screening and treatment. The clinic collaboration has also been an opportunity for residents to become involved in local - global health activities and gain a greater understanding in health care access and systems-based practice. UC San Diego's proximal location 30 miles from the US-Mexico border provides unique opportunities for experience in border and refugee health and advocacy.
Resident Elective Exchange, Ecuador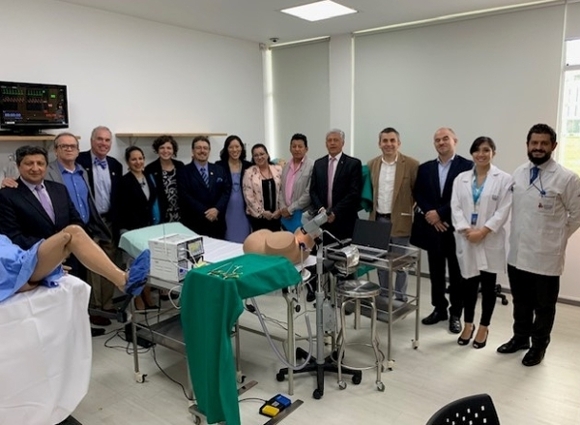 Ecuador is the international partner for California's ACOG District IX. This region of South America has one of the most drastic national healthcare access disparities in the world and struggles with increasing rates of teenage pregnancy, especially in girls ages 10-14 years old. High cesarean section rates are characteristic of the obstetrics environment with some hospitals quoting 65% c-section rates. The ability to perform vacuum assisted deliveries has been identified as a gap in the skillset of most maternal health providers. GWH is collaborating with ACOG District IX's Committee for Global Health to form a bi-directional residency exchange with Ecuador. Residents from California and Ecuador are paired on rotations for cross-cultural learning. Faculty initiated trainings in operative vacuum assisted vaginal delivery are planned to expand the skill set of obstetricians in Ecuador. This collaboration within ACOG District IX opens up avenues of collaborative research and quality improvement studies.
Research Activities
Dr. Averbach has active research activities in India, and Bangladesh. Her work focuses on increasing access to contraception globally through decreasing barriers to provision and uptake and understanding the intersection of gender equity and family planning. She serves as a research mentor to medical students, graduate students and clinical fellows interested in global reproductive health research.