Hospitalist Division
An OB/GYN Hospitalist is a specialized subset of Obstetrician/Gynecologists whose primary professional focus is the medical care of hospitalized patients. Hospitalists play a critical role in the management of obstetric emergencies and the standardization of medical care on the Labor and Delivery unit, which improves outcomes.
Our hospitalist division members work predominantly in the hospital on labor and delivery. At Jacobs Medical Center, working alongside our Maternal-Fetal Medicine, General OB/GYN and Certified Nurse Midwife colleagues, we provide comprehensive Labor and Delivery coverage. At Hillcrest Medical Center, we serve as the primary attending physicians for all OB/GYN services and work with our departmental colleagues including our daytime Certified Nurse Midwives. In addition, on the Hillcrest campus, we staff the Hillcrest OB Group clinic to provide continuity in prenatal care and delivery. We also have expertise in providing inpatient gynecologic consultations and treatment of emergent early pregnancy and gynecologic conditions.
At UC San Diego, our hospitalists are a consistent presence for patients, referring physicians, and resident and medical student learners. The continuity plays an invaluable role in patient safety and the smooth running of inpatient services. We hold a strong commitment to education and members of this division currently hold many leadership positions in medical student and resident education. In addition, we are actively involved in research, quality improvement initiatives and we serve on departmental, UC San Diego Medical Center, UC San Diego School of Medicine and UC San Diego campus committees.
Division Director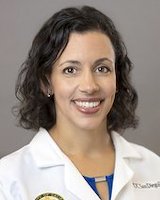 Congratulations to Dr. Julia Cormano for winning the Kaiser Excellence in Teaching Award, the highest honor for an educator in clinical clerkships.
As of summer 2022, we are actively recruiting ObGyn Hospitalists. For additional information email Dani Sierras-Douglas.
Gender Health
Our Gender-Affirming Care providers are Dr. Frugoni and Dr. Alvarado. Visit our program to learn more.
Faculty Support
Dani Sierras-Douglas
858-249-1205