Nurse Midwifery Program
UC San Diego Nurse Midwives provide maternity and well-woman care. Since 1999, we have attended over 15,000 births. We are proud to offer evidence-based midwifery care within an academic medical center, as well as teach future health care providers about normal pregnancy and birth.
Women who choose midwifery care have the option of giving birth at California's only in-hospital birth center. The birth center offers a homelike environment for women with low-risk healthy pregnancies. Non-pharmacological pain management options are available, including tubs and showers for hydrotherapy. In addition, nitrous oxide and intravenous pain relief medications may be used. Queen-sized beds provide a comfortable space to labor, give birth, and stay postpartum.
If more intensive monitoring is required during labor, such as for vaginal birth after cesarean or with epidural anesthesia, our nurse midwives are also able to provide care in the Labor and Delivery unit.
Appointments can be made with the UC San Diego Nurse Midwives at Medical Offices South-Hillcrest, Villa La Jolla Professional Building, and the Mid-City Community Clinic.
Director, Nurse Midwifery Services
Karen Perdion, CNM, MSN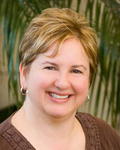 Division News/Spotlight
The UC San Diego Nurse Midwives have been recognized by the American College of Nurse Midwives (ACNM) with the Silver "With Women" Commendation for providing innovative and compassionate care to families, expanding access to women's health care, educating midwifery students, and putting the heart of midwifery into practice.
In addition, for several years in a row we have been named "Best Practice" by ACNM for having high rates of breastfeeding, both initially after birth and at six weeks postpartum.
Nurse Midwives
Program Support
Lizette Lozano
619-543-3863
lglozano@ucsd.edu