Dr. Louise Laurent
Louise C. Laurent, M.D., Ph.D. is the Vice Chair for Translational Research and Director of Perinatal Research for the UC San Diego Department of Obstetrics, Gynecology, & Reproductive Sciences and a member of the UC San Diego Embryonic Stem Cell Research Oversight Committee.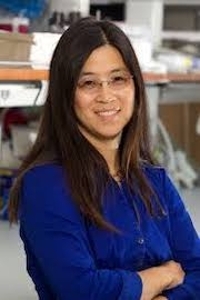 About the Lab
Our lab applies our expertise in human pluripotent stem cell research and genomics to understand the molecular mechanisms underlying normal and abnormal human development, in order to improve the health of mothers and babies.
Healthier babies through stem cell & genomic technologies
Center for Perinatal Discovery
The Center is a focal point for clinical, translational, and basic research projects related to maternal and child health.
Recent Publications
Discovery and verification of extracellular miRNA biomarkers for non-invasive prediction of preeclampsia in asymptomatic women. Srinivasan S, Treacy R, Herrero T, Olsen R, Leonardo TR, Zhang X, DeHoff P, To C, Poling LG, Fernando A, Leon-GarciaS , Knepper K, Tran V, Meads M, Tasarz J, Vuppala A, Park S, Laurent CD, Bui T, Cheah PS, OvercashR, Ramos GA, Roeder H, Ghiran I, Parast M, The PAPR Study Consortium, Breakefield XO, Lueth A, Rust SR, Dufford MT, Fox AC, Hickok DE, Burchard J, Boniface JJ, Laurent LC.
Lab Location
The Lab is located on the fourth floor of the Sanford Consortium for Regenerative Medicine in La Jolla.
Map of Sanford Consortium for Regenerative Medicine
CO-CREATE
CO-CREATE (Community-driven Optimization of COVID-19 testing to Reach and Engage underserved Areas for Testing Equity—in Women and Children) is one of the RADx-UP projects funded by the NIH. CO-CREATE is a partnership between UC San Diego, San Ysidro Health, and the Global Arc.
CO-CREATE (Español)
CO-CREATE (Optimización impulsada por la comunidad de pruebas COVID-19 para poder involucrar áreas desatendidas y dar equidad de pruebas— a Mujeres y Niños) es uno de los proyectos de RADx-UP financiado por el Instituto Nacional de Salud (NIH). CO-CREATE es una asociación entre UC San Diego, San Ysidro Health y Global Arc.