Maternal-Fetal (Perinatal)
Fellowship Training Program in Maternal-Fetal Medicine
Program Director: Sandy Ramos, M.D.
About the Fellowship
The Maternal-Fetal Medicine (MFM) Fellowship Training Program focuses on providing state-of-the-art care for High-Risk pregnancy and has a strong emphasis on training in basic science and clinical research.
The Maternal-Fetal Medicine (MFM) Fellowship Program at UC San Diego, School of Medicine is approved for three fellows in any 3-year cycle. This fellowship provides a broad base in the practice of Maternal-Fetal Medicine, incorporating both clinical and basic science elements, and is focused on preparing graduates for careers in academic medicine.
The mission of the UC San Diego Maternal-Fetal Medicine (MFM) Fellowship program is to produce physicians who provide innovative, compassionate, culturally competent, and comprehensive health care for women. This is accomplished through promoting lifelong learning, research, and clinical care of diverse patients within a variety of settings.
The program aims to recruit a diverse group of Ob/Gyn residency graduates. The educational objective is to educate and train, over a period of 3 years, fellow graduates that will become highly competent Maternal-Fetal Medicine (MFM) physicians and leaders in the field.
The clinical and research activities of the Division of Maternal-Fetal Medicine offer a diverse training program, supported by physician scientists and academic clinicians. This provides exposure to different practice approaches, patient populations, and experiences throughout the course of fellows training.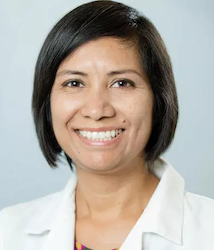 Sandy Ramos, M.D.
Vice Chair, Education
Director, Maternal-Fetal Medicine Fellowship Program
Director, Diabetes and Pregnancy Program
Expertise: treating women with chronic medical complications such as diabetes to help ensure safe deliveries of healthy infants while maintaining optimal health of mothers. She is also experienced in managing invasive placentation and other fetal high-risk conditions.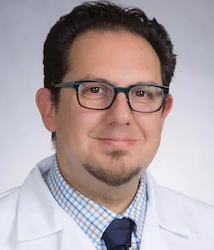 Jerasimos Ballas, M.D.
Director of Wellness
Expertise: maternal chronic illnesses including diabetes and hypertension, ultrasound evaluation of fetal abnormalities, and management of invasive placentation.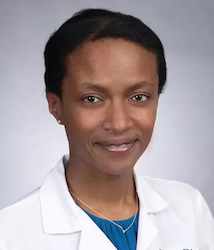 Cynthia Gyamfi-Bannerman, M.D., MS, FACOG
Samuel SC Yen Endowed Chair
Chair, Department of Obstetrics, Gynecology, and Reproductive Sciences
Professor, Maternal-Fetal Medicine, Obstetrics & Gynecology
Expertise: fetal anomalies, high risk pregnancies including medical complications of pregnancy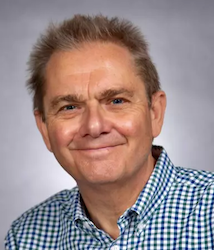 Andrew Hull, BMBS, FRCOG, FACOG
Director, Fetal Diagnosis and Treatment Center
Expertise: medical complications affecting pregnancy, including HIV. Fetal disorders such as isoimmunization and complex birth defects; and placental disorders such as invasive placentation.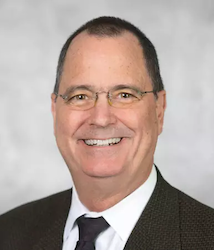 Thomas Kelly, M.D.
Director, Division of Perinatal Medicine; Director, Maternity Services
Director, Fourth Year Sub-intership
Expertise: medical complications of pregnancy and fetal diagnosis.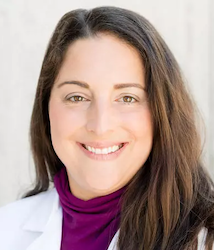 Leah Lamale-Smith, M.D.
Expertise: performing invasive fetal procedures for prenatal screening and diagnosis, including chorionic villus sampling (CVS), amniocentesis, and fetal blood sampling and intrauterine transfusions.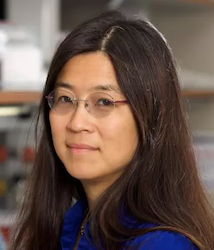 Louise Laurent, M.D., PhD
Vice Chair, Translational Research Director, Perinatal Research
Expertise: treating women who are at risk for preeclampsia or fetal growth restriction.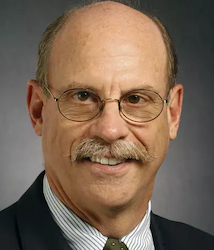 Thomas R Moore, M.D.
Interim Chief Medical Officer
Expertise: treating women with chronic medical complications of diabetes and prenatal diagnosis of fetal abnormalities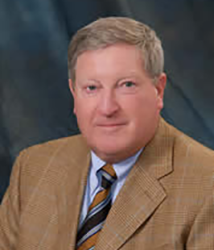 Robert Resnik, M.D.
(Emeritus)
Expertise: Maternal medical disorders, fetal growth disturbances and placental invasion.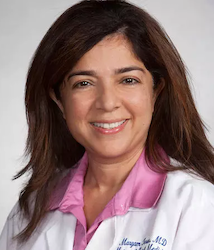 Maryam Tarsa, M.D.
Director, Department Quality
Expertise: fetal imaging and treating pregnant women with autoimmune disorders, cardiac disorders, and transplant recipients. She also cares for women having twins or higher-order multiples.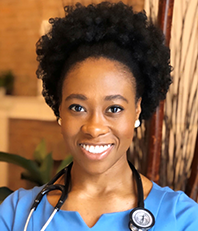 Emeruwa, Ukachi, M.D.
Expertise: maternal-fetal medicine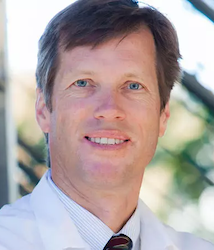 Douglas Woelkers, M.D.
Expertise: preeclampsia, placental insufficiency, thrombophilia, and coagulation disorders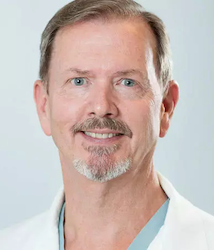 Richard Wolf, DO
Expertise: fetal imaging, amniotic fluid abnormalities, blood clotting disorders during pregnancy and blood group (Rh) incompatibility
UC San Diego Fellows in Maternal-Fetal Medicine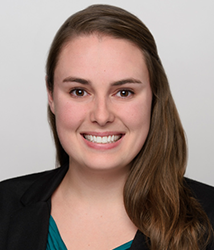 Kelsey Pinson, M.D.
7/2021-7/2024 Fellow
Hometown: Portland, OR
Medical School: NYU School of Medicine, New York, NY
Residency: UC San Diego, La Jolla, CA
Fellowship: UC San Diego, La Jolla, CA
Career Interests: I would like to provide full scope MFM and obstetric care. My special interests include placenta accreta spectrum, multiple gestation, and options counseling for high-risk pregnancies.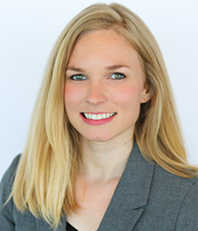 Dana Canfied, M.D.
7/2022-7/2025 Fellow
Hometown: Seattle, WA
Medical School: Case Western Reserve University, Cleveland, OH
Residency: Ob/Gyn at University of Utah, Salt Lake City, UT
Fellowship: UC San Diego, La Jolla, CA
Career Interests: Providing obstetric care to women with high-risk pregnancies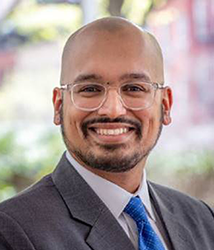 Minhazur Sarker, M.D.
7/2023-7/2026 Fellow
Hometown: Corvallis, OR
Undergraduate School:Oregon State University
Medical School: Oregon Health and Science University, Portland, OR
Residency: Ob/Gyn at Mount Sinai, New York City, NY
Fellowship: UC San Diego, La Jolla, CA
Career Interests: Management of and advancing research within the realms of placenta accreta spectrum, fetal growth restriction, pre-eclampsia, cholestasis
UC San Diego Nurse Practitioners in Maternal-Fetal Medicine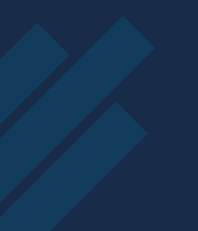 About: in development
Structure and rotations are reflected in this block diagram: AY 2022-2023 block diagram
Fellows are encouraged to attend the Department Grand Rounds scheduled on Wednesday afternoons as well as seminars and conferences provided by other departments and institutions. Also, fellows participate in paid night call rotation in obstetrics and gynecology.
Training of fellows is centered at UC San Diego Jacob's Medical Center in La Jolla, with a delivery rate of approximately 260 per month, of which 50–60% are high-risk, encompassing a wide range of complex obstetrical problems. UC San Diego Medical Center has an outstanding Neonatal Intensive Care Unit adjacent to the delivery unit.
An especially strong aspect of our training program is our Fetal Care and Genetics Center, a multidisciplinary unit receiving referral patients from throughout San Diego County, located near our campus in La Jolla. This center is staffed with geneticists, our own Maternal-Fetal Medicine faculty, and dedicated fetal sonographers. Affiliated with the center are specialists in the disciplines of pediatric urology, neurosurgery, nephrology, teratology, and perinatal pathology.
Our aim is to prepare academic leaders for a career in Maternal-Fetal Medicine (MFM) with a solid foundation for leadership. Specific educational activities are organized to maximize the fellowship education opportunity:
UC San Diego
Weekly didactic sessions with the entire clinical faculty, sonographers, and genetic counselors. Sessions are 1.0 hour long and consist of interactive seminars on subjects relevant to MFM, anesthesia, NICU, critical care, and placental pathology.
Bi-monthly Department Grand Rounds with faculty, residents, fellows and invited speakers. Sessions are 1 hour long. Fellows are expected to attend and participate in the MFM Grand Round lecture which occurs once annually.
Department Morbidity and Mortality (M&M) conferences with faculty, residents and fellows. Sessions are 1 hour long and recur the 2nd, 3rd and 4th Wednesday afternoon.
Fetal Diagnosis Conference is a multidisciplinary group discussion of cases followed from prenatal diagnosis through delivery. Fetal and maternal outcomes are reviewed. Continuing treatment and management plans are also reviewed. There is also a guest speaker invited to discuss important fetal diagnosis topics. The conference occurs every 2nd and 4th Tuesday of the month.
OB Quality Meeting is a monthly meeting where OB quality goals are discussed. These include, CMQCC benchmarks, NTSV rate, and OB hemorrhage. The conference occurs every 2nd Wednesday of the month.
Additional conferences include:
Infectious Disease Core Lecture every 1st and 3rd Wednesday
NICU M&M every 1st Wednesday
Quarterly MFM/OB journal club at faculty homes. Sessions are 2 hours long and consist of critical review of selected manuscripts.
Conferences outside of UC San Diego:
SMFM annual pregnancy conference
UCLA annual fetal echo conference
SMFM first year fellows retreat
GOHO second year ultrasound course
Banner critical care in obstetrics symposium
UCSF genomics boot camp
UCIC meeting
The majority of clinical fellows conduct a primary prospective translational research project, as well as secondary projects that typically involve clinical or ultrasound activities under the leadership of the faculty or an affiliated research mentor. Projects usually are focused on placental dysfunction, morbidly adherent placentation, and spontaneous preterm birth. Aims include the discovery of exosomal, metabolomic, and microbiome biomarkers for a variety of pregnancy complications, as well as the elucidation of the molecular mechanisms underlying these conditions.
Structure
The structure of the fellows' research and clinical service activities is flexibly determined, based on the needs and desires of each individual fellow. In accordance with ACGME certification standards for Maternal-Fetal Medicine, 12 months of the fellowship is protected for clinical or basic science research. The remainder involves diagnostic ultrasound, perinatal consultation, and intensive inpatient management of complicated pregnancies. Fellows function at the Attending Physician level and thus are responsible for an appropriate proportion of resident and medical student teaching. Fellows typically publish 2–6 manuscripts and present regularly at Society for Maternal-Fetal Medicine and Society for Reproductive Investigation meetings. A list of our recent fellows and the academic programs to which they have been recruited following completion of fellowship follows.
Application Process 2023
Application materials are submitted through the Electronic Residency Application Service (ERAS), via the Dean's Office of the applicant's medical school. We only accept applications through ERAS.
A complete application file consists of:
An ERAS application (Common Application Form)
A personal statement
Three letters of recommendation

Letter from Program Director
Letter from Chair
Other, e.g. research mentor
Application Dates
Application Deadline: Send your letters with your application to ERAS by May 1, 2023
Application Notification: Notification of acceptance will be sent out on May 15, 2023
Interview Dates for Application: Interviews will be scheduled between mid-July through end of August 2023. Interviews will be virtual.
Match
All Maternal-Fetal Medicine Fellow positions are filled through the National Residency Matching Program (NRMP). You must also call or write the NRMP for application.
Questions?
To discuss the fellowship or request more information, contact:
Hitomi O'Briant
(858) 249-1207
hobriant@health.ucsd.edu