Gynecologic Oncology Fellowship
Program Director:
Ramez Eskander, M.D.
About the Fellowship
The goal of the UC San Diego Gynecologic Oncology Fellowship program is to train academic physician leaders in gynecologic oncology. In addition, we expect our fellowship trainees will acquire exemplary clinical skills.
The fellowship aims to train gynecologic oncologists who are expert in all aspects of cancer care:
Surgery (including minimally invasive, HIPEC, and reconstructive surgery)
Chemotherapy
Immunotherapy
Targeted Therapeutics and Precision Medicine
Radiation Therapy
Critical interpretation of clinical trial data
Our fellows will be prepared not only to practice clinical gynecologic oncology and conduct meaningful, independent research, but, given the unique and academically significant resources available at UC San Diego, we expect them to set new standards and lead advances in the field.
Gynecologic Oncology Faculty
Research Faculty
UC San Diego Fellows in Gynecologic Oncology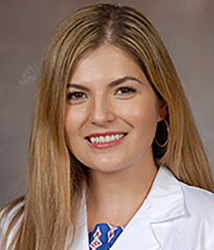 Ioana Bondre, M.D., MPH
7/2021-6/2024 Fellow
Medical School: University of Texas at Houston
Residency: University of Texas at Houston
Fellowship: UC San Diego, La Jolla, CA
Career Interests: Gynecologic Oncology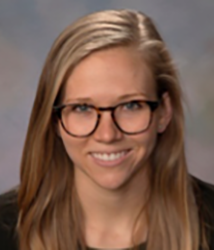 Breana Hill, M.D.
7/2022-6/2025 Fellow
Medical School: New York Medical College
Residency: Ob/Gyn at University of Colorado, Aurora, CO
Fellowship: UC San Diego, La Jolla, CA
Career Interests: Gynecologic Oncology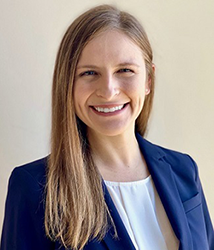 Elise Wilson, M.D.
7/2023-6/2026 Fellow
Hometown: San Diego, CA
Undergraduate School: Yale University
Medical School: University of Pennsylvania, Philadelphia, PA
Residency: Washington University, St. Louis, MO
Fellowship: UC San Diego, La Jolla, CA
Career Interests: Gynecologic Oncology
The fellowship is designed as a shared program between a nationally prominent academic medical center (UC San Diego Jacobs Medical Center) and a large established HMO (Kaiser Permanente San Diego). This training relationship is modeled after our UCSD-Kaiser integrated residency program which has a greater than 25-year history of a close, highly successful relationship, merging the resources of a renowned research institution with the patient volume of a large HMO (> 500,000 members).
The 3-year fellowship is divided into 3-month blocks. The first year of the fellowship program will be dedicated to 12-months of mentored research. During this period, fellows will have the opportunity to also complete course work in our CREST program.  After the first year is completed, there will be a transition back to clinical duties, with fellows alternating between UC San Diego and Kaiser in 3-month blocks.  During the clinical rotations, fellows will also have the opportunity to interact with and experience off-service specialties, including radiation oncology and palliative care, enhancing the breadth of their training experience.  Importantly, fellows are not expected to cross-cover both clinical sites, concentrating their education opportunities and limiting travel.
 Ordering the rotations as described is intended to permit early acquisition of research skills that can be applied throughout the remainder of the fellowship. In addition, beginning the research experience and the CREST program relatively early maximizes the probability that each fellow can pursue an advanced degree if they are included to do so during their training.
The Rebecca and John Moores UCSD Comprehensive Cancer Center, located in La Jolla, was completed in July, 2005. This 270,000 square foot facility unites the Cancer Center's clinical enterprise (including advanced imaging, digital imaging, and radiation oncology) with basic, clinical, translational, and cancer prevention research. The Cancer Center is one of five Organized Research Units (ORU) of the UCSD School of Medicine.  In addition to the above, the Cancer Center houses the center for personalized cancer therapy, as well as the center for precision immunotherapy.
The Cancer Center carries out research through eight programs: Cancer Biology, Cancer Genetics, Cancer Pharmacology, Cancer Prevention & Control, Cancer Symptom Control, Translational Oncology, and Viral Malignancy. Cancer research is supported by the Center's 12 shared resource facilities: Biostatistics, Clinical Trials Office, Data Compilation & Analysis, Digital Imaging, DNA Sequencing, Flow Cytometry, Histology & Immunohistochemistry, Microarray, Molecular Pathology, Nutrition, Radiation Medicine, and Transgenic Mouse.
A busy clinical experience is available at the Moores-UC San Diego site; there is constant exposure to non-surgical, as well as surgical, management. At UC San Diego, patients on the gynecologic oncology service are treated with chemotherapy and radiation, as well as surgery. Furthermore, as the only NCI designated comprehensive cancer center in the region, UC San Diego is a referral site for clinical trials, and fellows will be active participants of the care team, counseling, and enrolling patients onto eligible clinical trials.  Many patients are enrolled on cooperative group, commercially sponsored, and investigator initiated, clinical trials. All the benefits of a comprehensive cancer center are available at this site.
Tremendous clinical volume and a wealth of clinical experience is available at the Kaiser site. The Kaiser attending gynecologic oncologists receive a large volume of referrals each month and have a very busy clinical service, emphasizing the surgical aspects of gynecologic oncology care.  They are also involved in guiding and recommending treatments in collaboration with Kaiser San Diego medical oncology service.
CREST Program
The Clinical Research Enhancement through Supplemental Training (CREST) program is designed to improve the training of clinician investigators and translational researchers by providing a comprehensive, cohesive infrastructure in an environment which promotes interaction between basic scientists and clinical researchers. CREST scholars take courses in the methods and techniques of clinical research, meet regularly with a CREST advisor who provides guidance for career development, gain experience in the design, planning, implementation, analysis and presentation of a research project, and have the opportunity to interact with researchers in other disciplines. The CREST program has a modular format consisting of eight 10-week courses and professional development module offered over a two-year period. CREST scholars can enroll in any of the individual courses (Track I) or in the full two-year program (Track II). The courses are accredited for 20 credit units that can be applied towards a Master's degree in clinical research. The MAS degree requires completion of 36 credit units over a 2–3 year period.
Gynecologic Oncology Educational Activities:
Fellow directed educational activities include multi-disciplinary Gynecologic Oncology Treatment Planning Conference, Gynecologic Oncology specific M&M, Journal Club and Round Table:
Treatment Planning Conference (Tumor Board): weekly, every Tuesday
7:30 to 8:30 AM
at the UC San Diego Moores Cancer Center
All other educational activities are consolidated onto the 3rd Wednesday afternoon of each month (protected time for fellow education)
The fellowship didactic lecture series is a longitudinal, multidisciplinary approach to complement practical training over year 1 through 3.  Lectures are held on Tuesdays from 8:30 to 9:30 AM. This is protected time.
Educational Conferences
Educational conferences for the Dept. of Reproductive Medicine occur every Wednesday afternoon, and include Grand Rounds, Gynecology Morbidity and Mortality Conference, Perinatal Morbidity and Mortality Conference, Medical and surgical complications are presented and discussed at these conferences. The fellows will participate in these conferences when the conferences are pertinent.
Basic Research
Dr. David Schlaepfer, Professor of Reproductive Medicine, is the Division of Gynecologic Oncology's primary research faculty member. Dr. Schlaepfer's research interest is in the area of cell signaling, particularly as relates to metastasis and invasion. He has published a number of very high impact papers on Focal Adhesion Kinase, which plays a central role in these processes, and is considered one of the leaders in the field. Dr. Schlaepfer runs an active, and productive, research laboratory. He trains graduate and post-doctoral students and will serve as the research mentor for our gynecologic oncology fellows. Each fellow will serve as a post-doctoral student in the lab, will participate in all lab activities and is expected to complete one, or more, basic science research projects.
Dr. Dwayne Stupack, Associate Professor of Reproductive Medicine, is the Division of Gynecologic Oncology's even more primary research faculty member. Dr. Stupack's lab has focused on how stromal and normal cells take cues from their microenvironment, regulating the biochemical pathways that support tumor cell survival and dissemination. The lab is at the forefront of understanding how tumor cells usurp programmed cell death pathways to promote tumor malignancy, with studies ranging from molecular interactions to mammalian models. Dr. Stupack sits on the Core Curriculum Committee of the Medical School and on the Membership and Curriculum committees of the Biomedical Sciences Graduate Program. His laboratory provides an outstanding and interactive environment in which fellows may train during their research elective year.
Clinical & Translational
The extensive research infrastructure and support within the Cancer Center enables a wide array of clinical research studies. UC San Diego has a long-standing record of Gynecologic Oncology Group (GOG) as well as GOG-Partners participation. As an integral part of the treatment team, fellows are expected to be advocates for clinical trial enrollment, to understand the novel agents being examined, and to critically evaluate clinical trial research and implications for practice.  
In addition to cooperative group studies, we maintain a portfolio of commercially sponsored phase I, II and III studies as well as investigator-initiated trials.
Fellows are expected to actively participate in all divisional clinical and translational research projects.
Any graduate from a US or Canadian accredited residency program may apply. All applications are to be submitted through the Electronic Residency Application Service (ERAS) and we participate in the National Residency Matching Program and all applicants must enroll in this program.
Selected applicants will be offered interviews in late summer, and deadlines for application will be posted in accordance with the SGO fellowship program guidelines.
If you have any questions, please do not hesitate to reach out to the fellowship program director, or fellowship coordinator as noted below.
Ramez Eskander, M.D.
UC San Diego Rebecca and John Moores Cancer Center
3855 Health Sciences Drive
La Jolla, CA 92093-0987

Office: (858) 249-2560
Fax: (858) 732-0859
Email: reskander@health.ucsd.edu
The UC San Diego Gynecologic Oncology Fellowship Training Program participates in the National Resident Matching Program. 
Alyssa Rodriguez
UC San Diego Rebecca and John Moores Cancer Center
3855 Health Sciences Drive, #0987
La Jolla, CA 92093-0987

Office: (858) 657-8971
Fax: (858) 732-0859
Email: alr046@health.ucsd.edu