Culture & Justice Quorum Events
JUNE 2nd at 6PM Social Media and Diversity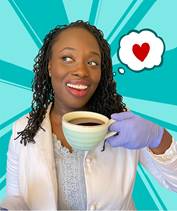 Hosted by the UCSD Office of DEI within GME, Dr. Obuobi will discuss "Social Media and Diversity."  During her talk, Dr. Obuobi will share her insights on the ways in which social media can be used to promote diversity, inclusion, and equity in the healthcare industry. She will also discuss best practices for building inclusive online communities, creating engaging content, and navigating the challenges of online activism.
 This event is part of ongoing efforts to bring diverse perspectives to the UCSD campus and create a space for open dialogue and exchange of ideas. 
 The talk will occur at the Lower MET Auditorium on the Med School campus, at 6p on June 2. Light refreshments will be served starting at 5:30pm – and continuing after the presentation.  Please RSVP ASAP to Jackie Rizo (jarizo@health.ucsd.edu) if there's any chance that you'll attend – to give a sense of how much food to order.  And please feel free to share this information with anyone in our health care community that might be interested in attending.
Hosted by:
Maria Uloko, MD - DEI Director for GME
Charlie Goldberg, MD - Assoc Dean GME
Dr. Shirlene Obuobi is a Ghanaian-American physician, author, and diversity and inclusion advocate. She is currently a cardiology fellow at the University of Chicago Medical Center. Dr. Obuobi is skilled in combining the humanities and medicine through her work as an illustrator under the moniker ShirlyWhirl, M.D. Her comics have gained a steady following on Instagram and Facebook, international recognition in the medical community, and have been featured in The Lancet, Axios, Student Doctor Network, and more. In her spare time, she teaches zoom workshops on creative expression for medical students. Her debut novel, On Rotation, was published in 2022 with national and international reviews.  
2023 BLACK MATERNAL HEALTH WEEK
In celebration of Black Maternal Health Week April 11-17th, UCSD SOM CJQ, SNMA, and LMSA hosted a screening of acclaimed film Aftershock followed by an expert panel discussion moderated by Dr. Audra Meadows, Vice Chair, on the U.S. Maternal Health Crisis. Panelists included Dr. Cynthia Gyamfi-Bannerman, Department Chair, Nikki Helms, Licensed Midwife and Founder of the San Diego Community Birth Center, Dr. Shani Cooper, Doula and Founder of Root & Soul: Integrative Health, Dr. Toluwalasé (Lasé) A. Ajayi, Pediatrician and Principal Investigator of PowerMom, Jessica Wade, Maternal & Infant Health Initiatives from March of Dimes, San Diego County, and Dr. Akilah Weber, Assembly Member, District 79. Photos from the event: